Public Input - Addressing Racism and Homelessness in SF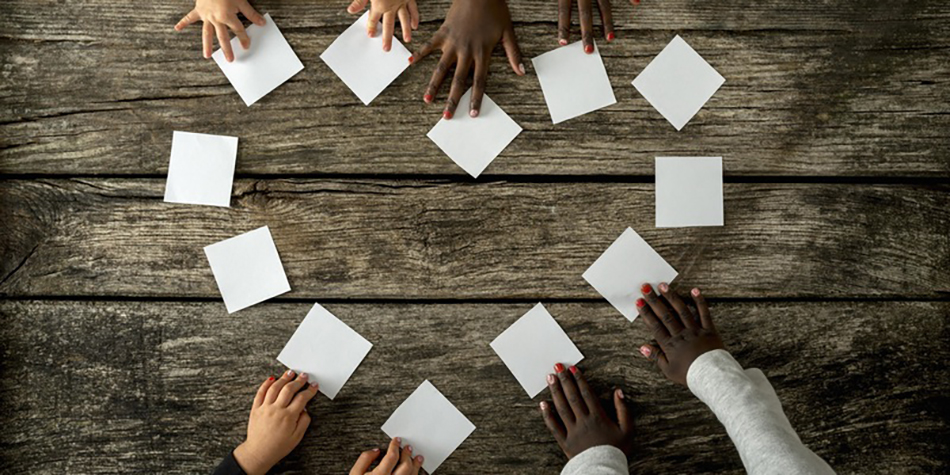 On Monday, October 17th, HandUp, Hamilton Families, Project Homeless Connect, and the City of San Francisco Department of Homelessness and Supportive Housing hosted a 
Town Hall at Herbst Theatre
 to address racism and homelessness in San Francisco. We asked some important questions at the event, and we have transcribed and published all of the responses that residents submitted here as a record of the conversation:
As a member of a privileged group, what is your role in dismantling racism? 
Self Reflection
Sitting in discomfort. To better understand. Changing myself.
Be aware of how privileged you are and aware of how you can help those around you
Remember we all get hit with racist messages
Seeing beyond the social class I am in
Understand that we do not live in a post-racial world
Acknowledge people on the street
Acknowledging the privilege, recognizing our own vulnerabilities
Take responsibility
Don't let things slide
Even while I'm vulnerable in other ways, I have the fact that I have access to health care and basic needs
Recognizing how my privilege also creates oppression and managing to limit this
Listen 
Be sincere and open to people of all races. Specifically people of color.
Finding a voice when needed, listening when needed
Doing the work to truly understand others
Listen. Speak Out. Help.
Listen
Facilitate healing
Being a good listener and not just making assumptions
Listening to people of color and talking to other white folks about privilege
Talk to people experiencing homelessness. Don't assume anything
Speak Up 
To challenge racism in my own people (lgbtq/queer, fat, and European) whenever I encounter it. To be aware in my own work of the privilege I have and how others are disempowered by deep structural racism.
Be a voice for change/dismantlement
Speaking up to shut down all attempts at racism
Be brave in speaking your truth
Not staying silent and comfortable
We need to speak out!
Engage in hard conversations. Speak out to injustice witnessed. Take ownership!
Not perpetrate the lie
Talk about the fact that I don't have to worry about immigration coming after me
Educate My Community 
Be a steward and bring the messages from tonight back to my community
Educating myself and privileged peers
MORE THAN LISTEN. Educate, reflect, call out, support and hold space, give money, vote.
Educating my community, not staying silent
As a White person, part of my role is to make other privileged people aware of their own privilege and how we can use that privilege to advocate for others
Create a safe space for others to critique and breakdown stereotypes.
Name racism and the intersectionalities connected to it
Have the hard conversations. Talk about the racism without shame.
Help educate other privileged friends and family on the structural factors supporting racism and discrimination. There's more to racism than just hate speech.
Have the hard conversations!
Take Action at Work 
Advocating for better hiring practices at work
Speak out at my workplace, with very diverse line staff, all white supervisors, and managers.
Stop giving jobs to fight inequalities to other privileged persons.
Insist on discussing racism at work
Asking tough questions at work
Use my role at work to actively dismantle racist factors in our system. Test for disparate impact, hire and mentor people of color.
Requiring anti-racism trainings at work
Take Action in My Community
Speaking out in areas of privilege, relative safety, and security for the rights of marginalized people. Being active by voting, showing up, and protesting when others can't.
Join SURJ and start discussions and share knowledge among my peers
Create website that vets nonprofit orgs
Support local POC-owned business
Donating money
Walk the walk, not just talk the talk
Utilize my skills and education
REPARATIONS Advocate for change
Let's revisit the racist and undemocratic "Care not cash"
Create policy to bring and rectify equity
Showing up. Talking about it. Creating space for voiceless populations.
ACT NOW
- - - - - - - - - - -
As a vulnerable person what is your role in dismantling racism? 
Self-reflection 
Live with an open heart
Remaining curious and open
Accept that Black people in the United States have been treated poorly
Make others aware of my vulnerabilities
Be myself
Stop pretending it doesn't hurt
Recognize my role in the system
Speak up and out 
Engage in conversation
Speaking up, not regretting not having done so
TAKE UP SPACE
Speak out
Speak out and up for others
Speaking out against racist speech when I hear it
Speaking up and sharing my stories
Eradicate ignorance
Calling upon my allies to bring attention to the issue
Speaking up for other vulnerable people
If racism in encountered- address it!
Raise awareness
Respond and speak up!
We are all vulnerable in some way, but it is worth the risk to speak out share info, shine a light, and align myself with other advocates and vulnerable folks.
Speak up for yourself and others
Call it like it is. Report things I see as wrong.
Support myself and my community 
Identifying my own prejudices and helping others do the same
Supporting my peers whey they share experiences of racism and or micro aggressions
As a human person, my role is to say We Are Strong!
As a White queer person, to establish allyship and fight racism in myself and my own groups
Begin to connect deeper with our own brothers and sisters
Live with, work with, and enjoy things together
Take Action
Get educated about institutionalized racism. Go for the origin of the problem!
Challenging my colleagues to be aware of implicit bias
Be committed to the fight. Don't give up!
Going out into the community and volunteering
Work to establish and create safe spaces for all people to be seen as a human being!
Change/reinvent capitalism!
Find allies and build bridges with them
Treat everyone with respect
Work to change the power imbalance
- - - - - - - - - - - - -
When was the first time you experienced, witnessed, or participated in racism?
A little white girl, a baby, rubbed my hand and said, "You are dirty."
My teacher assumed I lived a different neighborhood than he did.
"Why are your eyes like that?" I felt wrong and like I couldn't be right.
My first time was in high school. I was told Black literature was not important.
In elementary school when I was told I was so pretty and nice "for a black girl"
Growing up in public housing, also being called a spit at City College in the 1970s
First time at 18 years old, stopped by police and harassed.
I was three years old riding in a grocery card and said "hi" to a white family in the store and they totally ignored me.
As a person of color, I am often overlooked in retail settings while lighter skinned or more affluent people get served before me.
"Black is not a color"
Sad and angry. Seven years old when my African American friend said we couldn't play together anymore because I am White, and it made her other friends angry.
I became the "exception." In sixth grade, my teacher told me that I surprised her and the other teachers, that they didn't expect any of the Black kids to do well to the suburban school. But, according to her, I was different because I was articulate. I knew she intended it as a compliment, but I didn't want it if it meant putting down my peers.
Here in the states, when I just arrived.
When I, a Caucasian, was publicly criticized and demeaned for marrying my Pilipina wife. (1966 in Wisconsin)
In high school during a fight
I felt really bad for my dad as a little girl, and ANGRY
Confused. Three years old in Lewis, Delaware. Walking with my grandfather's friend who was Black. Vividly remember how disrespectfully they treated him when my White grandfather was not with us.
The first time I participated in racism, I felt nothing. It was normal. I know differently now.
How did you feel?
Angry, sad, and helpless. Racism sucks.
Angry and worthless
I thought that if I was kind, I would be immune to racism. Not so.
Confused, hurt.
Devalued, worthless, and broken down.
Sad, angry
Under attack
I felt uncomfortable
Sad and angry
Like curling up in a ball and rolling away
Angry
Painful, torn apart inside (emotionally)
I felt like shit. Belittled.
Embarrassed
(As a witness) Indignation, remorse, pain
Seen as people